Top 10 Kids Games for the Nintendo Switch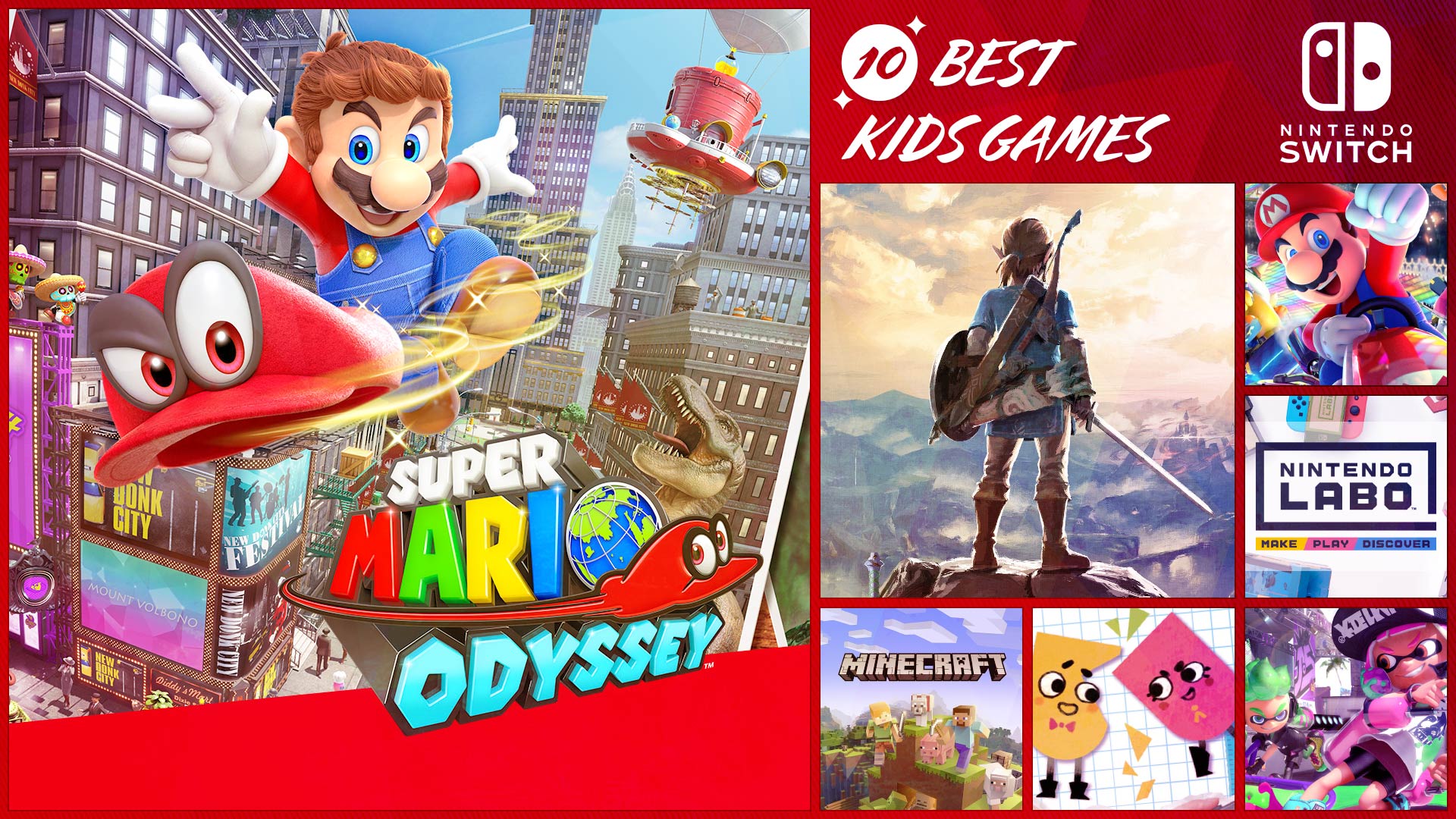 Nintendo's newest console offers unlimited fun for the whole family.
Nintendo has always been the first choice for parents looking for a console that favors age-appropriate gaming for kids. The Nintendo Switch has seen more Mature-rated releases than normal for a Nintendo platform, but its playful design and emphasis on old-fashioned couch-sharing multiplayer means that even in 2018, it's still the console with the strongest line-up of child-friendly gaming.
Obviously. You think "Nintendo," you think "Mario," and his debut Switch adventure is one of the plucky plumber's all-time best. This is a free-roaming epic set across multiple worlds, ranging from the semi-realistic New Donk City to the more surreal deserts and jungles that Mario usually explores. Each zone is absolutely crammed with secrets and surprises, and the game is balanced so that players of any skill level will be able to find something interesting. The big change for this entry in the series is Cappy, as Mario's iconic hat now has a character all of its own and can be thrown onto enemies and objects to control them. If playing with very young kids, they can even control Cappy separate from Mario, allowing you to handle the tricky jumps while they help out with simpler controls. Best of all, after you finish the story, the game opens up and offers even more for you to do. Utterly charming, incredibly generous, classic Nintendo.
Yes, it's him again. One of the great things about Nintendo – and one of the company's limitations – has been that their mascot tends to dominate the upper reaches of their software library. Who could begrudge Mario Kart its moment in the spotlight? 26 years on from its 1992 debut, and this series is still one of the freshest and most accessible racing games around. This is a spruced-up version of Mario Kart 8, which came out for the Wii U (remember that?) but the many different ways the Switch allows you to play – on the TV, on the move, alone or in groups – makes it perfect for this most sociable of racers.
The Legend of Zelda: Breath of the Wild
Another Nintendo-owned series, and another that constantly delivers superb gaming experiences. Already the recipient of many Game of the Year awards, Breath of the Wild unfurls the world of Hyrule into a single, vast explorable space, and gives hero Link the freedom to explore, hunt and craft his way to victory against the obligatory dark forces oppressing the land. This is one for older kids, given its languid pace and occasionally steep difficulty (and steep cliffs). If you have youngsters who are yearning to move on to more mature gaming pastures this is the ideal stepping stone, offering melancholy themes and demanding self-sufficiency, without sacrificing the whimsical sweetness at the heart of this beloved saga.
Nintendo often gets criticized for sticking doggedly to the same core franchises and characters it's been using since the 1980s, but when the company does break out and innovate, the results are always magical. That's certainly the case with Labo, an astonishing collection of DIY cardboard toys – or "toy-cons" – that are brought to life using the Switch screen and controllers. From a fishing rod to a doll's house, to a working piano and even a wearable robot suit, Labo is a beguiling mixture of high technology and lo-fi craftwork that is fun (and easy) to build, and joyous to play with. It's a little expensive if you want to buy both sets (the first has five things to build, the second is the robot) but if you want something that will reinvent your family gaming time, there's no contest. Labo really is magic.
Splatoon 2
It's one of the first instincts of play to chase and be chased. There's something primal about it, an echo of our distant hunter-gatherer past, so it's no surprise that so many games are about running after each other. Sadly, for parents, such encounters in most games of this type end with a brutal gunshot or similarly violent kill. Not in Splatoon, where cute tentacled teens called Inklings form teams and romp around cleverly designed maze arenas armed only with paint. The idea is not to "kill" your opponents – although you can knock them out with a good soaking – but to color enough of the map in your team's paint to win. All the excitement of a shooter game, and all the hand-eye coordination practice, but with none of the nihilistic violence. Brilliant.
Lego City Undercover
The Lego games have been delighting kids and parents alike for over ten years now, and frankly you won't go wrong regardless of which one you choose. For the Switch, however, we're particularly fond of Lego City Undercover as it's an updated version of a game that was originally designed to be exclusive to the Wii U. Unlike other Lego titles, which are based on movies and other big brands, this one is entirely set in Lego's own world, with top cop Chase McCain free to explore Lego City on the trail of a criminal mastermind. Kids will instantly recognize many of the Lego City toy kits recreated in the game, but it's the hilarious script – nominated for a British Academy Award, no less – that makes this a true family favorite, with slapstick gags for the kids and clever references to classic cop shows for parents.
Snipperclips
Not all of the Switch's best games come in a retail box. Delve into the Nintendo Store on your console and you'll find loads of inventive independent titles to download. We definitely recommend Snipperclips, a wacky cooperative puzzle game that requires deft lateral thinking. The game features Snip and Clip, two papercraft characters who must work together to solve each new problem by cutting themselves into useful shapes. You'll have a lot of fun collaborating on solutions, and making a mess along the way, but there's a real emphasis on genuine logical thought that makes this more than a throwaway trifle.
Minecraft
If you have kids, you definitely don't need to be reminded that Minecraft exists. There's a lot to recommend in the Switch version, however, not least the ability to go from playing on the TV screen to playing on the go – very handy if you need to steer youngsters off the couch and into the car without tantrums. You can also link up with friends if they bring their Switch consoles around, making for a strong mixture of personal play on your own screen, with the social aspect of playing with others in the same room. You even get some Super Mario character skins to add to the occasion, and the Switch version of the game is about to get its own version of the Achievements and Trophies systems familiar from Xbox and PlayStation, encouraging players to do and try more things in the game. A classic title, in a compellingly convenient package.
Mario + Rabbids: Kingdom Battle
Yeah, so it's that guy again. Well, sort of. Kingdom Battle is one of those bizarre spin-off games that Nintendo likes to throw out there, although this one was actually developed by Ubisoft and features their anarchic Rabbids characters. The gameplay is actually surprisingly deep and thoughtful, though. It's a tactical strategy game, not unlike chess in many ways, as you take turns to move your characters around each location, trying to defeat the other team. There's a story mode for solo play, but the game comes to life – as these things always do – when played together. Whether you cooperate against AI opponents, or battle each other, this is the sort of quirky and unique mashup experience that you only get on a Nintendo console.
Sign Up for Our Newsletter