Nintendo Switch Sports Review
We hit the court in Nintendo's upcoming sports game.
Update (04/29/2022): We were unable to test the game's online functionality prior to posting this review on April 27, 2022. Now that we've had a chance to try the game's online features, we've updated our review with additional information about the game's online functionality and our final opinions about the game.
---
Original Story:
Nintendo Switch Sports will be released on Nintendo Switch on April 29, 2022.
We had the chance to try the game before it's released.
What is Nintendo Switch Sports?
Nintendo Switch Sports is Nintendo's latest sports-themed video game. It allows players to use motion controls to play six sports: Soccer, Volleyball, Bowling, Tennis, Badminton, and Chambara ("swordplay").
How do you play this game?
In Nintendo Switch Sports, each sport asks players to hold one-or-more detached Joy-Con in their hand(s), and then swing or move their arm(s) to interact with the game in different ways.
As a couple of examples, in a round of Bowling, players can move their arm as though they were rolling a bowling ball to send the ball down the lane, while in a Volleyball match, players can move their arms up and down in order to serve the ball, spike the ball, and so on.
Since the game requires the use of one-or-more detached Joy-Con, it can't be played in handheld mode. Similarly, the game can't be played on a Switch Lite unless you connect separate Joy-Con to the Switch Lite system.
Nintendo Switch Sports allows solo players to compete against computer-controlled opponents, and it also supports local multiplayer for up to four people in the same room, who can all play on the same Switch system. Finally, Nintendo Switch Sports will allow players with a Nintendo Switch Online membership to compete with other players online (including strangers). When competing online, players will earn points that will allow them to unlock new items that can be used to customize the appearance of their in-game character.
The majority of sports in Nintendo Switch Sports are quite simple, and many don't even require players to control their character's movements on the court. For instance, in a game of Badminton, the player's character will automatically move to the proper location on the court so players can hit the birdie by swinging their arm. Volleyball, meanwhile, will sometimes allow players to move their character manually, but we found there was no need to do so as the automatic movements worked fine.
While most sports are simple, Chambara and Soccer are a bit more complicated.
Chambara allows players to choose from three modes, depending on the type and quantity of foam swords they want to use. During a match, players will need to observe their opponent's movements and move their arm(s) appropriately to swing their sword(s) or guard against an oncoming attack. Players can block and swing horizontally, vertically, and diagonally. This gameplay takes some getting used to, as players must quickly remember how they should react depending on their opponent's current stance, and then perform the appropriate movement while also trying to avoid getting hit themselves.
Soccer, meanwhile, allows players to move their character around the field as they try to hit a giant soccer ball into a large net. Players can swing the Joy-Con in different directions to kick the ball accordingly, and they can also spend a limited amount of energy (which recharges over time) to temporarily run faster.
Soccer also has a separate "Shoot-Out" gameplay mode that uses Nintendo's "Leg Strap" accessory. In this mode, you're asked to wrap the Leg Strap around one of your thighs and insert one of the Joy-Con into the Strap. From there, you can perform a kicking motion with your leg to kick the soccer ball in the game, with the goal being to earn more points than your opponent in a match.
This Leg Strap accessory was previously included with Nintendo's Ring Fit Adventure video game, so your family may already own one if you've previously purchased that game. If you don't have a Leg Strap accessory, one is included with the physical version of Nintendo Switch Sports. Nintendo will also begin selling the Leg Strap on its own on April 29. To be especially clear, the Leg Strap is not included with the digital version of Nintendo Switch Sports.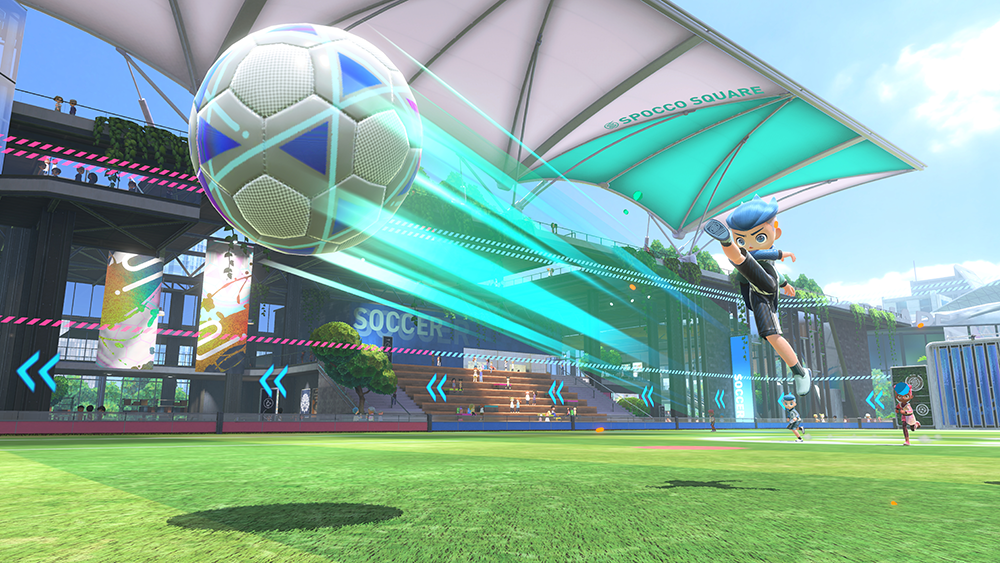 Is this game fun to play?
We've mostly enjoyed our time with Nintendo Switch Sports. However, we've found playing online or in the same room with other real people is much more entertaining than playing on your own against the computer. If you don't connect your Switch to the internet or don't have a Nintendo Switch Online membership, and you don't think you'll regularly play with friends and/or family in the real-world, you may not have as much fun with the game, as we found the experience loses its novelty quickly when playing on your own.
The ability to unlock new character customization items also makes the online mode more enjoyable than single-player gameplay. After each game, players will earn 30 or more points. To be specific, they'll earn at least 30 points for simply completing a match, and they may earn bonus points depending on their performance in the last game. Each time players earn 100 points, they'll be able to trade those in for a random accessory or equipment item for their in-game avatar. Different item collections will only be available to earn for a limited amount of time, which may encourage some players to keep coming back to the game.
All of that being said, Nintendo Switch Sports has a couple of issues that make it more enjoyable when playing in shorter gameplay sessions.
For one, we've found the game requires players to perform pretty forceful movements in order for the motion to be accurately picked up by the game. This means you may "tire" your dominant arm and/or shoulder if you play the same sport or perform similar motions repeatedly in a single gameplay session.
Similarly, we've never been happy with the length of Nintendo's Leg Strap accessory. Larger players may have trouble wearing the Strap, and it can quickly become uncomfortable (and even painful) depending on its tightness around your thigh. This may affect players' enjoyment of the Shoot-Out Soccer mode.
Aside from these issues, we wish the game provided on-demand tutorials that would teach players more in-depth techniques for some sports, such as how to perform a drop shot during a game of Badminton or how to curve the ball while Bowling. Players aren't required to use these techniques or moves, but the title could do a better job of teaching players they're available.
Is there anything else parents need to know about this game?
It's worth pointing out that the online gameplay may match players up with opponents of varying skill levels. If your kiddo performs well against the computer-controlled opponents in the single-player mode, there's no guarantee they'll also win online matches against real people. This may make for a nice teaching opportunity related to losing and winning with humility.
In addition, parents should know that even though players can compete online with other real people, there's no way for players to talk to others. Instead, they can send emotes related to different emotions, like being happy or sad.
Finally, while Nintendo Switch Sports will offer six sports at launch, a seventh sport – Golf – is planned to be added through a free game update in Fall 2022. The game will also be updated this fall to allow players to use the Leg Strap in Soccer's One-on-One and Four-on-Four modes.
What's the final verdict?
When we first tried Nintendo Switch Sports, we only had the ability to play offline (in single-player) and with others in the real-world (in the same room). At that time, we generally liked the game, but we weren't comfortable recommending it to everyone. Now that we've tried the game's online features, we enjoy the overall experience much more and are more likely to recommend the game to families.
That being said, our recommendation hinges on being able to regularly play the game with other people. As we said before, it you don't connect your Switch to the internet or have a Nintendo Switch Online membership, and you don't think you'll play the game regularly with friends and family in the real-world, there may not be enough content here to justify a purchase.
---
Nintendo Switch Sports will be released on April 29, 2022 for $39.99. The game is rated E10+ for Everyone 10+ by the ESRB.
Disclosure: SuperParent received a code for Nintendo Switch Sports for coverage purposes.
Sign Up for Our Newsletter