SuperParent's Stay-At-Home Guide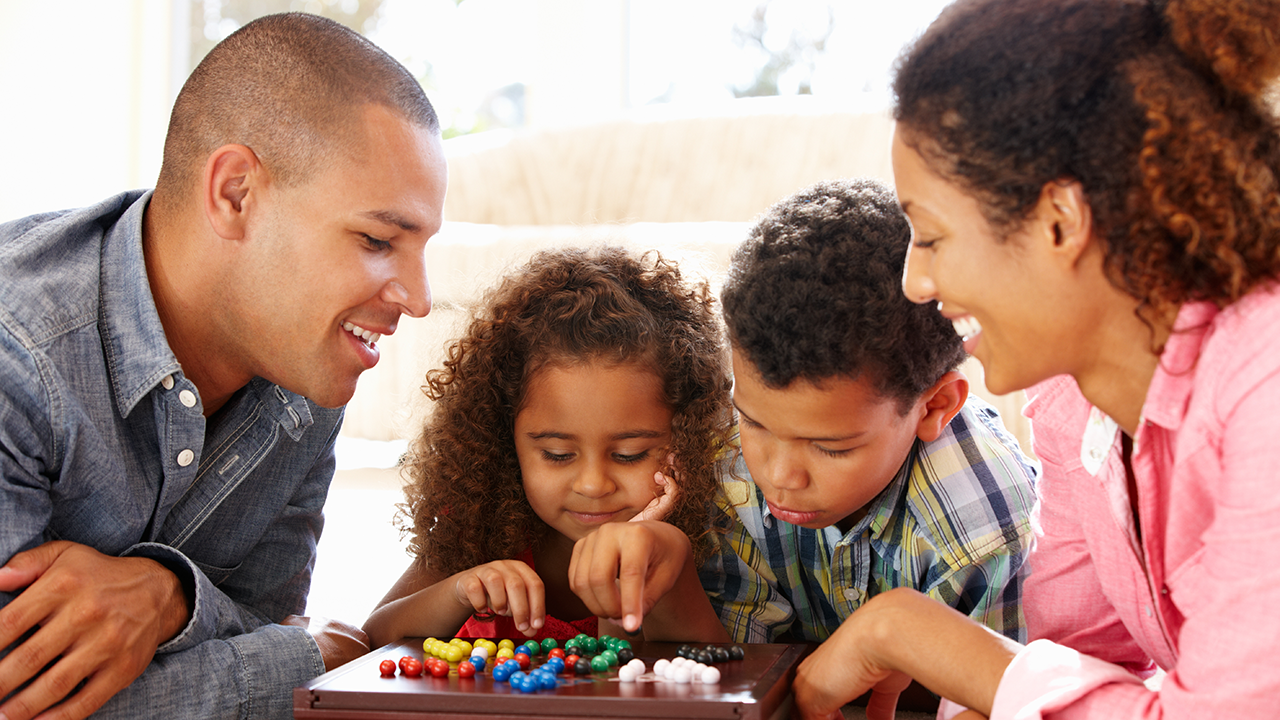 From online classes to family-friendly video games, here are some suggestions that can keep you entertained during this trying time.
Video Games
In addition to the titles on our list of the 10 Best Kids Games Right Now, there are lots of additional video games worth considering during your extended indoor stay
Also note that you're going to see a number of Nintendo Switch-based recommendations below, and it's with good reason: Nintendo has focused its platforms on being family friendly for some time now...and the games are just that much fun.
Super Mario Party
Rated E for Everyone
Available On: Switch
Think of this as an elaborate digital board game loaded with mini-games and one goal: Get around the board and score the most Stars (and coins) in 10 turns. Play solo with the computer or against your family, go free-for-all or team up and see who wins in the end. The only concern is that Super Mario Party can only be played with the Switch's detachable Joy-Con. DO NOT buy this for the Switch Lite.
Ring Fit Adventure
Rated E10+ for Everyone 10+
Available On: Switch
Who knew that doing squats would help you kick butt in a video game? Workout games have often felt more like workout than game. It's not a bad thing, but Ring Fit Adventure has figured out the balance of how to get you up and moving while also pushing you to play a fun platforming, turn-based combat game. Read our take on it, here.
Nintendo Labo
Rated E - E10+ (for Everyone to Everyone 10+, depending on the kit)
Available On: Switch
These combinations of STEM learning kits and clever video games are perfect for the whole family. Part of the fun is following the on-screen instructions to build the game's peripherals (Toy-Con), which are made out of cardboard. As the pieces come together, your kids can see how the mechanics work. There are currently four packages available -- Variety Kit, Robot Kit, Vehicle Kit, and VR Kit -- and all are great.
Lego Games
Rated E10+ for Everyone 10+
Available On: Consoles, PC, and Mobile Devices (platforms may vary per game)
It's no surprise that games featuring Lego minifig characters are just playfully fun. It's a tried-and-true formula -- take any well-known franchise and sprinkle in puns and plenty of wink-and-nod humor -- but it constantly works. Better yet, most Lego games have been designed to work in couch co-op as you travel around worlds made of the famous bricks. This means you and your kids can sit side-by-side and play together. Two superheroic suggestions: Lego Marvel Super Heroes 2 and Lego The Incredibles.
Rocket League
Rated E for Everyone
Available On: Switch, PlayStation 4, Xbox One, PC
If you haven't heard of this game yet (REALLY?!?!), let's sum it up quickly: It's supercar soccer. The game has been around for ages - it's readily available on PC and all consoles. You can play together on a couch, against others online...or, one fun suggestion for the family: Let your kid play (solo against AI is always an option) and you do a live shoutcast of the match in the living room like you're the commentator. For more information about Rocket League, check out our guide.
Crossy Road Castle
Rated 4+
Available On: Apple Arcade on iOS Devices
You've played Crossy Road. You've been hooked on it for years. This version brings the whole family together. Whether you play it on iPhone, iPad, or Apple TV, this Apple Arcade exclusive has you work together to get the top of the tower. Can you overcome the platforming puzzles of over 100 floors? Read more about Crossy Road Castle here.
Shovel Knight: Treasure Trove
Rated E for Everyone
Available On: Switch, PlayStation 4, Xbox One, PC
Shovel Knight is more than just getting medieval with gardening tools. The series is a tribute to classic platforming games (think Castlevania) that throws in a healthy dose of humor. What started as a small indie game turned into a cult hit and this Treasure Trove is packed. Five games are jammed in here, each with a unique feel -- one of them (Shovel Knight Showdown) is also a great game right now where up to four people can compete against each other from the couch.
Mario & Sonic at the Olympic Games Tokyo 2020
Rated E10+ for Everyone 10+
Available On: Switch
The story goes something like this: Sonic, Mario, and all their pals are in Tokyo for the Olympic Games. There, they will compete in 30-someodd mini-games ranging from traditional decathlon-grade athletics to skateboarding, surfing, and more. Of course, Bowser and Dr. Eggman are having NONE of it, so they manage to timewarp the crew back to 1964. With retro-graphics and all. So, you're essentially playing many mini-games tweaked for today, and playing throwback 2D classics all rendered in old sprites. Whether you're blazing through the story or gathering up the family, we highly recommend this competition.
Butter Royale
Rated 9+
Available On: Apple Arcade for iOS Devices
It's a Fortnite food fight for all ages. This fun, easy-to-play title is a Battle Royale game that's truly for kids. As you'd gather from the pun-tastic name, this game is all about grub-shooting guns and other food-punned hijinks as you fight to be the last one standing. No deaths here, you just get "creamed." Play this Apple Arcade exclusive on your iPhone, iPad, or Apple TV. Check out our review of Butter Royale right here.
Super Mario Maker 2
Rated E for Everyone
Available On: Switch
Super Mario Maker 2 is the sequel to the original Super Mario Maker, which was released on Wii U in 2015. The hook: Create your own Super Mario-style levels and share them with the world, as well as download and play levels created by other users. For this sequel, players can choose from new themes and level elements, such as slopes and the Angry Sun. In addition, a brand new Story Mode introduces players to some of the game's many design elements as they complete 100 stages created by Nintendo itself. For more on Super Mario Maker 2, check out our guide.
Starlink: Battle for Atlas
Rated E10+ for Everyone 10+
Available On: Switch, PlayStation 4, Xbox One
We're going to let you in on a little secret: this is the Star Fox game that you've always wanted. When this game first came out, it was all about the plastic toy line that could snap together as you played. Turns out, if you buy the digital version, it forgets all the peripherals and you can just enjoy playing an awesome game. While Starlink is playable -- and a ton of fun on -- the Xbox One and PS4, we recommend going for the Switch digital version because it comes with ol' Fox McCloud himself and a bunch of extra Star Fox-specific missions. Read our take on Starlink, here.
Audica
Rated E for Everyone
Available On: PlayStation VR, PC [VR Required], Oculus Quest, Oculus Rift
If Beat Saber is the equivalent of playing "Jedi Hero" to music, then Audica is the Han Solo edition. Take aim with your two virtual light guns and fire at a series of targets. You're not only graded on your accuracy, but if you're able to hit targets to the beat. This VR game is appropriate for everyone, provided they are old enough to strap a VR display on their head.
Kingdom Hearts 3
Rated E10+ for Everyone 10+
Available On: PlayStation 4, Xbox One
The latest installment in this popular role-playing game series stars a young boy named Sora, who teams up with Donald Duck and Goofy to defeat creatures known as the Heartless, who have invaded a variety of Disney and Pixar worlds. Players can interact with returning characters like Hercules and Jack Sparrow, as well as meet new (but familiar) faces, including Rapunzel from Tangled, Elsa, Anna, and Olaf from Frozen, and Woody and the gang from Toy Story. The Kingdom Hearts games have accessible gameplay for newcomers, but the overall storyline is quite complicated, so younger players may need help understanding what's going on.
Splatoon 2
Rated E10+ for Everyone 10+
Available On: Switch
This kid-friendly third-person shooter allows players shoot ink to cover up environments. The game includes a single-player story mode, as well as a variety of multiplayer modes. For instance, the Turf War mode gives two teams of four a limited amount of time to cover as much ground as possible in ink that matches their team colors. In addition to playing online, the game also supports local multiplayer so you can play with your kids in the same room.
Top image © Monkey Business / Adobe Stock
Sign Up for Our Newsletter